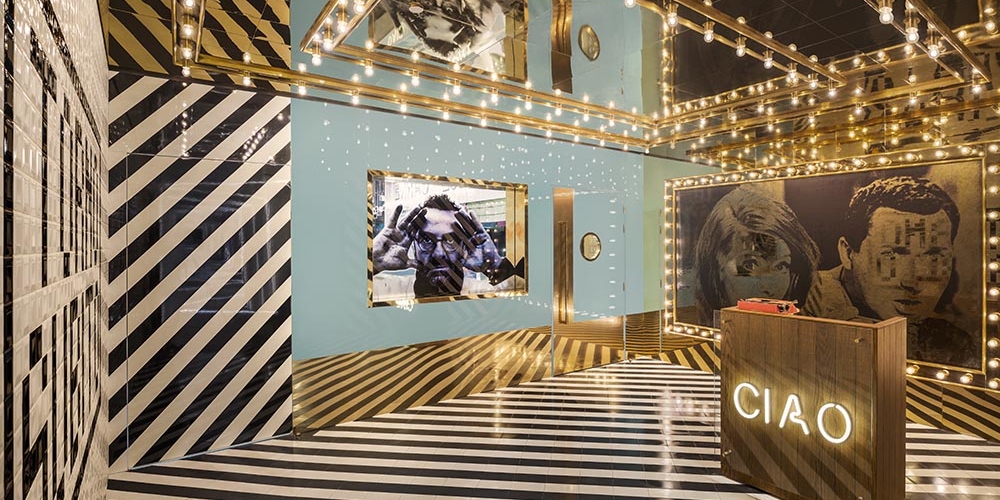 Best restaurants in the Gulf 2021
5th May 2021
Best restaurants in the Gulf 2021-
Despite a challenging year for the restaurant trade, the region's best chefs, kitchens and dishes continued to push the culinary boundaries. Behold Esquire's edit of our favourite restaurants in the Gulf 2021 — a list that celebrates what it means to eat well right now in a region filled with perseverance, diversity and dynamism. We hope you're hungry.
---
#50 Soulgreen
For far too long the only thing on offer for non-meateaters at the vast majority of restaurants in the region was a selection of cold mezze, tomato salads and mushroom risottos. It's incredible to think that it took people so long to realise that there was an appetite for plant-based dining—especially when the dishes are as good as Soulgreen's menu. It may be a bit of a drive, but the terrace views are absolutely worth it.
Vida Creekside Harbour, Dubai. Tel: +971 50 747 6678
#49 Vanitas
Buried deep in the depths of Dubai's Palazzo Versace Hotel, Vanitas finds itself in what might be the most subtle space in the ostentatious hotel. The elegant Italian restaurant puts its emphasis on fine dining, and served on some of the finest tableware we've ever seen. The food is a touch flouncy for our tastes but backed up with some impeccable silver service.
Palazzo Versace Dubai. Tel: +971 4 56 8820
#48 Nobu
Walking through the Mall section of Dubai's largest hotel doesn't quite set the scene for one of the world's greatest Japanese chefs, but that's all forgotten the moment you walk in to Nobu. Its 'world famous' blackened cod is still one of the mostordered on the menu, and even after 25 years in the game it's evident that Nobu is still a highwater mark when it comes to Japanese fine dining.
Atlantis The Palm Dubai. Tel: +971 4 426 2626
#47 STK Downtown
If you prefer your food to be served with a fresh slice of party, then STK Downtown is your place. The restaurant-slashnightclub, is unmistakably New York chic—with an international following thanks to venues in Las Vegas, New York and London. But party aside, it has a strong reputation for its steaks, alongside a few token fish and vegetarian options served with heaping portions.
Rixos The Walk, Dubai. Tel: +971 4 425 3948
#46 Flamingo Room by Tashas
Certainly one of the most stylish restaurants on the list, Flamingo Room is a casual dining restaurant with flair (and one heck of a cocktail bar). The homegrown concept pays tribute to founder Natasha Sideris' South African heritage, while embracing a tasty and generous Mediterranean menu.
Jumeirah Al Naseem, Dubai. Tel: +971 4 244 7278
#45 Hakkasan Abu Dhabi
The Michelin-approved chain helmed by International Executive Chef Andrew Yeo is a stickler for standards, and while The Guide has yet to open its doors here in the Middle East, even they would be hard-pressed to spot the difference between Hakkasan's two regional locations, and its flagship London eatery.
Emirates Palace, Abu Dhabi. Tel: +971 2 690 7739
#44 Ninive

This tropical paradise of a restaurant is hidden away amidst the skyscrapers of Dubai's financial district. But it's worth tracking down, for its generous (and delicious) Middle Eastern, Iraqi, Turkish and Moroccan cuisine. Oh, and fyi, expect any evening you spend here to to go long into the night.
Emirates Towers Hotel, Dubai. Tel: +971 4 326 6105
#43 Din Tai Fung
Din Tai Fung is one of the most accessible restaurants on this list. Its growth has been extraordinary, and we know why—because it produces hands-down the best dim sum and dumplings in the Middle East. The restaurant doesn't take reservations, and so features daily queues of people lining up outside, but trust us… it's worth the wait.
Mall of the Emirates, Dubai. Tel: +971 4 265 1288
#42 The Maine Oyster Bar and Grill
The Maine is now a staple on Dubai's dining scene (which now boasts three locations in the city, and even a taco truck). It's further evidence that Dubai-based 'gastropreneur' Joey Ghazal and his excellent combination of fresh seafood mixed with a fun, vibrant atmosphere, is a concept that is here to stay.
The DoubleTree JBR Dubai. Tel: +971 4 457 6719
#41 Akira Back
Like the chef-owner himself, Akira Back is both swish and personable at the same time. The restaurant is decorated with Back's mum's art on the walls, along with the eclectic crockery. Fortunately, it serves up a nice mix of fusion dishes, alongside some of the plates that put Back on the culinary map—such as tuna pizza smothered in truffle oil.
W The Palm Dubai. Tel: +971 4 245 5800
#40 Avli by Tasha's

Last year was big for Greek cuisine, with no less than five high-end restaurants opening their doors within months of each other (a few of them are on this list). Avli is by far the most authentic of the bunch, stripping almost everything away (save for the old-school 'Greek" façade of its Financial Centre restaurant) in favour of putting all the effort in can into making authentic plates of food. The results are good, and delicious.
DIFC Gate Village, Dubai. Tel: +971 4 359 0008
#39 Nozomi Doha

One of the guiding lights of the Qatari capital's food scene, this slick contemporary Japanese restaurant is one that you both need to try and need to be seen trying. Push for a table on the terrace so you can soak is some rather special views of the Marsa Malaz Kempinski and the sea, and lean hard into the selection of precise Japanese favourites.
Marsa Malaz Kempinski, Doha. Tel: +974 4035 5089
#38 Torno Subito

Massimo Bottura's first restaurant outside his native Modena was never meant to ape his Michelin-starred fine-dining establishment. Instead, this fun, eclectic bistro concept features dishes grounded in tradition, but pepped-up with the same contemporary twists Bottura is known for. All the hallmarks are there, but presented a different enough way as to make Torno Subito a place worth visiting.
W The Palm, Dubai. Tel: +971 4 245 5555
#37 Miss Lily's
Utterly authentic and incredibly fun; Miss Llly's provides the city of Dubai with a taste of what the night scene in Jamaica is all about. The tiny, boxy and colourful restaurant has a fantastic atmosphere, and the Caribbean island's most famous dishes are all well represented (including what must be the city's best jerk chicken).
Sheraton Grand Hotel, Dubai. Tel: +971 4 356 2900
#36 Roberto's
Roberto's has been the home of classic Italian cooking for years now. A well-established favourite that now boasts a new and improved terrace in its Dubai location. And for good reason; the food here is stellar, which paired with fantastic service and a cool clientele make Roberto's worth visiting (again, and again).
Gate Village 1, DIFC, Dubai. Tel: +971 4 386 0066
#35 Thiptara

Many restaurants let you get up close and personal with the world's tallest building, but not many let you sit practically below it. Thiptara's terrace may as well be under the Dubai Fountain, with stellar views of the Burj Khalifa and Downtown Dubai. Fortunately, the food more than matches the landscapes, with slick and friendly service and wholly authentic Thai dishes.
Palace Downtown Hotel, Dubai. Tel: +971 4 428 7961
#34 Bistrot Bagatelle

Bagatelle is an anomaly in the region's dining scene. Walk through its bright blue doors early in the evening, and you'll spot wellheeled people digging in to decadent and experimental French cuisine. Come back a few hours later, and it's party central, with thumping music and waiters dancing on tables. An anomaly indeed, but one that backs up its party spirit with truly inspired dishes.
Fairmont SZR Dubai. Tel: +971 4 354 5035
#33 3 Fils

The small 30-seater, homegrown restaurant tucked away in the Jumeirah Fishing Village marina has amassed a loyal list of regulars (including us) and is very rarely empty because of that. The restaurant serves a handful of high-end but simple Asian-inspired tapas dishes, at casual eatery prices. We're hoping to see a lot more like it in 2021.
Jumeirah Fishing Village, Dubai. Tel: +971 4 333 4003
#32 Boca

Boca is a little bit of everything for everyone. There's a fun bar with lively staff, and the menu spans top-notch dishes from coastal France, Spain and Italy. All the dishes benefit from some of the finest locally sourced products available, and even vegans are well-catered for with a dedicated food (and wine) menu.
Gate Village 6, DIFC, Dubai. Tel: +971 4 323 1833
#31 Carine Dubai

Chef Izu's love letter to the humble French brasserie. Carine is both charming and unpretentious, with a no-frills dining room boasting a lovely terrace overlooking one of Dubai's best golf clubs. The food is—as to be expected—top notch, but don't immediately discount the bread basket. Like any true brasserie, the bread (notably, the homemade pain de campagne) is a worthy course on its own.
Emirates Golf Club, Dubai Tel: +971 4 417 9885
#30 Asado

Asado is best enjoyed via its new floating terrace, which puts diners even closer to the Burj Khalifa and the whimsical fountains of the Dubai Mall. That's controversial, to be sure, as many guests at this Argentinian restaurant choose to be closer to the other view—the kitchen's large open fire. Located at the centre of the restaurant and ringed with floor-to-ceiling windows, the showpiece is often ringed with baby goats roasting on the open fire (the restaurants specialty). Regardless of where you sit, Asado is one of the finest grills in the city.
The Palace Hotel, Dubai. Tel: +971 4 888 3444
#29 Reif Japanese Kushiyaki

The latest restaurant from Chef Reif Othman is like none other you'll find on this list. For starters, it only has ten tables —and far from being in one of Dubai's lavish luxury resorts, it takes up a quiet spot in a mall in the city's suburbs. That's not to say the food is lacking; Othman spent most of the last decade working at some of the city's finest restaurants, and has decided to apply that knowledge here at Kushiyaki. The result is some of the best Asian food in the city, served simply and without pretension.
Dar Wasl Mall, Dubai. Tel: +971 4 345 0761
#28 Cipriani Dubai

It's easy to overdo restaurant concepts. Fortunately, Cipriani treads this line with the same grace as some of its most famous clientele (everyone from the likes of Charlie Chaplin and George Clooney have graced Cipriani's original Venice location over the years). The results are topnotch food, more traditional than flouncy, and with a dining room seemingly straight out of Frank Sinatra's NYC penthouse.
DIFC Gate Village, Dubai. Tel: +971 4 347 0003
#27 Tamba
Abu Dhabi's leading upmaket contemporary Indian restaurant has a very clear vision of what it is, even if its guests do not. Expect the unexpected as the kitchen provides clever interpretations of subcontinent flavours with very modern twists. The stunning, loftstyle interior creates an exciting social vibe that sets up a culinary discovery.
World Trade Centre Abu Dhabi. Tel: +971 2 672 8888
#26 Marina Social

Many regional restaurants boast big-name chef partners, but not many see those partners on a regular basis. Celebrity chef Jason Atherton does things differently, and is oft seen behind the pass of Marina Social's open kitchen. The British-inspired menu features all of your favourite comfort foods 'poshed-up' with the sort of high-end flair you'd expect from a multi-Michelin-starred chef.
Intercontinental Dubai Marina. Tel: +971 4 446 6664
#25 Stay by Yannick Alleno
If ever a chef needn't an introduction, it would be Yannick Alleno. When not busy juggling his nine Michelin stars, his namesake in Dubai is one of the city's best examples of how modern techniques best intersect with classic, French cooking. Alleno is a visionary chef for a reason, and Stay is a fantastic example of that.
One&Only The Palm, Dubai. Tel: +971 4 440 1030
#24 Ce La Vi

Ce La Vi is a confidence venue. It's a place you go to make a good impression. The restaurant uses its learnings from its other global locations—Singapore, Shanghai, Tokyo—including jaw-dropping views, opulent interiors, Insta-ready hero shots and, most importantly, a well-drilled kitchen offering a playful interpretation of contemporary Asian cuisine.
Sky View Hotel, Dubai. Tel: +971 4 852 6111
#23 Bushman's Restaurant & Bar
The dated cliche about Australians is that they love a good barbecue, normally while wearing flipflops. A more updated cliche about Australians is that they are sustainably-concious, environmentally-savvy, are obsessed with slick modern design…and love a good barbecue. It goes to show that cliches are not always negative, and in the case of the antipodean-inspired Bushman's Restaurant & Grill at Dubai's Anantara The Palm, picking the right elements that embody a culture can be a very good thing indeed.
Anantara The Palm Dubai Resort. Tel: +971 4 567 8888
#22 Tasca by José Avillez
Portuguese food is still a bit of a mystery to most people, but what is becoming less of a mystery is the versatility of flavours coming out of the kitchen at Tasca. Perched on the rooftop of the impressive Mandarin Oriental resort, the view, bar and chic vibe makes this place the perfect date spot.
Mandarin Oriental Jumeira, Dubai. Tel: +971 4 777 2231
#21 Hutong

There's no shortage of high-end Asian dining concepts on this list, but what separates Hutong from the rest is its dedication to tradition. Hutong doesn't go crazy trying to re-invent the wheel, and that's for the best. Crazy fusion dishes are nowhere to be seen, and instead the menu focusses on getting the basics right, oh so very right.
Gate Building 6, DIFC, Dubai. Tel: +971 4 220 0868
#20 Indego by Vineet
Vineet Bhatia's high-end Indian has been a staple on the Dubai dining scene for years. Recent menu changes only solidify the impact this restaurant has had in the city. Dishes remain inventive, clever and delicious, and are a fantastic way to see how much more there is to Indian cuisine than curry (although, his curries are rather excellent, too).
Grosvenor House Dubai. Tel: +971 4 317 6000
#19 Bull & Bear
If ever a restaurant could transport you back to the hustle and bustle of New York in the 1980s, it would be Bull & Bear. Not only does it have roots from the Big Apple's original Waldorf Astoria, but has been designed to look like something straight out of an Oliver Stone flick. It also serves up excellent and classy American dishes, with a dollop of modern flair.
Waldorf Astoria DIFC, Dubai Tel: +971 4 515 9888
#18 La Mar by Gastón Acurio
Featuring the acclaimed Peruvian cuisine of chef Gastón Acurio, the upmarket and slick restaurant is easily one of the most coveted seats in the Qatari capital. Look for authentic ceviches, fresh seafood, and charcoal-grilled meats paired with signature hand-crafted cocktails. The beachfront setting also has panoramic views of the Doha skyline. Nice.
InterContinental, Doha. Tel: +974 4484 4919
#17 Fouquets

Telling the Careem driver to take you to the Louvre comes with a certain amount of satisfaction, but not as much as the experience of dining at its standout restaurant, Fouquets. Much like its Champs-Elysées namesake, the menu is designed in collaboration with starjuggling chef Pierre Gagnaire, and its crimson red seating contrasts magnificently with the white-washed setting. Elegance, perfected.
Louvre Abu Dhabi. Tel: +971 2 205 4200
#16 La Serre

Home-grown concept La Serre is divided in two—elegant bistro upstairs, casual boulangerie down—regardless where you sit this Parisian-inspired restaurant is charming. Bright and effortlessly chic, the menu is a collection of Mediterraneaninspired comfort foods such as a traditional onion tart and burrata (made from local milk).
Vida Downtown Dubai. Tel: +971 4 528 3779
#15 BB Social Dining

Asian-meets-Middle Eastern food doesn't sound like it should 'fuse' together, but BB Social Dining somehow takes this mishmash of cuisines and makes it work—in the best way possible. Spread out over three floors, this modern, busy bistro-concept serves truly inventive dishes that you're unlikely find anywhere else in the region. Well, that is until other start to catch on…
DIFC Gate Village, Dubai. Tel: +971 4 407 4444
#14 Scalini Dubai

Scalini follows the same 'if it ain't broke, don't fix it' approach as its first branch, which has been going strong in London's Mayfair district for more than 20 years. The food at the self-described 'quintessential fine-dining Italian' restaurant isn't nearly as pompous as you might think, and dishes are served with few bells and whistles (fortunately for us, that makes for delicious results).
Four Seasons Dubai. Tel: +971 4 349 0068
#13 Shanghai Me

This restaurant features one of the best-looking dining rooms this side of the orient (which pays tribute to China's 1930s art deco movement) complete with an outdoor terrace and cocktail bar. Despite its name, food here spans all of East Asia—but what differentiates it from the swathes of other Asian restaurants in the city is the sheer high quality of it all.
DIFC Gate Village, Dubai Tel: +971 4 4 564 0505
#12 Coya
The Dubai branch of this London restaurant continues to delight, both in terms of atmosphere and food. It was one of the first to really champion Peruvian food here in the region, but its emphasis on fresh ingredients and delicious, but unfussy, food has stayed the same since. Be warned, more is certainly merrier here, and Coya's food is best enjoyed as part of a group.
Four Seasons Dubai. Tel: +971 4 316 9600
#11 Folly by Nick and Scott
With two of Dubai's favourite chefs in the kitchen, you'd think there's little more to be done at Folly then update the menu every few months. Not so. Nick Alvis and Scott Price haven't stopped tinkering with their eponymous location over the years, expanding beyond a high-end dining room and chef's table to include a dedicated grape and cheese area and award winning rooftop bar and terrace.
Madinat Jumeirah, Dubai Tel: +971 4 430 8535
#10 Amazonico
The phrase 'Amazonian cuisine' is a bit of a catch-all term. Fortunately, Amazonico handles the daunting task of sorting through an incredible number of ingredients, dishes and cooking methods that hail from South America with gusto. The paired-back menu spans ceviches, strange tubers and meats grilled over an open flame. The flavours are all very tasty, in a 'I never thought I would eat that' kind of way.
DIFC Gate Village, Dubai. Tel: +971 4 571 3999
#9 Alici
Alici—which means anchovies—is the charming cousin of Il Borro, the number two restaurant on this list. That should tell you everything you need to know about the quality of the food, and the service. But if you need know more, the restaurant spans two floors, specializes in sustainably caught fish and provides some of the best views of the Dubai Marina one could hope for.
Bluewaters Island Dubai Tel: +971 4 275 2577
#8 La Cantine du Faubourg

If ever a restaurant were to double as a film set, 'La Cantine' in Dubai's Emirates Towers would be it. And they wouldn't be hard-pressed at finding extras, either. The Parisian-inspired restaurant is never want of a good-looking crowd, attracted to the Mediterranean flavours served with an exciting Asian twist. The white-washed walls are home to ever-changing art exhibitions, which only add to La Cantine's joie de vivre.
Emirates Towers Dubai. Tel: +971 4 352 7105
#7 Kayto
 Kayto started out as a temporary pop-up with stellar views of Dubai's Burj Al Arab, and topnotch Nikkei food put together by celebrated JapaneseArgentinian chef Cristian Goya. One year on, and the restaurant has been so popular that it's temporary no more. Now a permanent fixture in Dubai's Jumeirah Al Naseem hotel, Kayto's decided to stick around is a very good one.
Jumeirah Al Naseem, Dubai. Tel: +971 4 432 3232
#6 Tresind

Innovation has been the name of the game at Tresind for years, but with the launch of its intimate Studio concept, it has taken modern Indian gastronomy to new levels in Dubai. With a seasonal menu changed every three months by corporate chef Himanshu Saini and regular Michelin-starred chef collaborations, there's always a reason to go back .
Voco Hotel, Dubai. Tel: +971 4 308 0440
#5 LPM Restaurant & Bar
 LPM has set the benchmark for slick, high-end dining in Dubai since it opened more than a decade ago. Its atmosphere and high-quality (but not overly-elaborate) Nicoise food make it a firm favourite. This year saw it expand with a new terrace in its Dubai location, and was one of the first to embrace an elevated home delivery service during lockdown to add a French twist to our time of need.
DIFC Gate Village, Dubai. Tel: +971 4 439 0505
#4 Gaia Dubai

Two years on since opening and Gaia is still impossible to drop-in without a reservation— a testament to the quality of the food and the genuinely elegant atmosphere inside this DIFC hotspot. True to both the restaurant's Greek concept and the cooking style of Chefs Izu Ani and Orestis Kotefas, the simple, ingredient-led dishes are best enjoyed shared. And in that context, with dishes such as the lobster salad, raw tuna, garlic prawns, spinach pie and baked feta cheese, Gaia gets it very right indeed.
DIFC Gate Village, Dubai. Tel: +971 4 241 4242
#3 Indochine
 "Sophisticated cool" is the phrase that best describes this French-Vietnamese restaurant. The Dubai branch of the famous New York hotspot has quickly built a reputation as the place where everyone (and we mean everyone) wants to be, by adding an element of 'big city cool' to the thriving DIFC dining scene. From its tropical décor and chic design, right down to the ecletic—but delicious—menu, all work together to make Indochine one of the most intriguing restaurants in the region.
DIFC, Dubai. Tel: +971 4 298 9333
#2 Il Borro Tuscan Bistro
Il Borro has famous owners (the fashion elite Ferragamo family) but that's not why it sits near the top of this list. The restaurant has near-total dedication to its ingredients, and remains one of the first in the region to wholeheartedly embrace organic dishes—most of the biodynamic food served in the restaurant comes from the family's Tuscan estate. Food is simple, traditional and incredibly tasty, served by an army of stewards who are as charming as they are knowledgeable. This is what the 'good life' looks (and tastes) like.
Jumeirah Al Naseem, Dubai. Tel: +971 4 2752 5555
#1 Zuma

Returning to the summit of our best restaurants list for one simple reason: consistency. For more than a decade the Dubai outpost of Zuma has been one of the region's most successful restaurants (and now, officially one of the world's best bars too), sparking an expansion into Abu Dhabi and a soon-to-be-open venue in Saudi Arabia. While the entire industry took a battering through lockdowns and social distancing, the sheer size of Zuma's cavernous DIFC space helped allay fears of cramped dining areas and restored a sense of confidence to diners desperate to return to 'normality'. Post-lockdown it was one of the first places we returned to and were delighted to see it hadn't missed a step. Yes, the world is different now but Zuma's clockwork-like precision and constantly brilliant modern Japanese food has not changed a bit, which is a very, very good thing.
DIFC Gate Village, Dubai. Tel: +971 4 425 5660