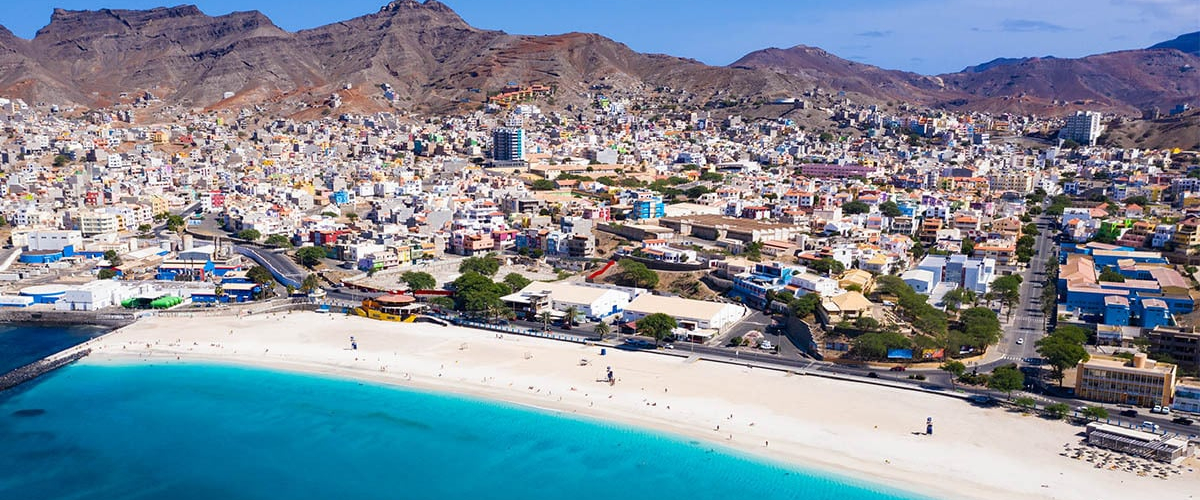 Cape Verde Hotels
28th July 2023
Cape Verde Hotels
Africa is never far from our hearts and our thoughts at Lumiere, having travelled and lived in Gabon for many years we are delighted each time we return to the continent. The flourishing hospitality and tourism trade brings wealth and development to countries rich in history and beauty. Cape verde hotels are one to explore further.
Nestled in the azure waters of the Atlantic Ocean, Cape Verde is a paradise of breathtaking beauty and a hidden gem in the world of travel. This captivating archipelago offers stunning landscapes, rich culture, and warm hospitality. Whether you're seeking a romantic retreat, a family-friendly escape, or an adventurous vacation, Cape Verde's hotels cater to every taste and desire. In this blog post, we'll explore the best hotels in Cape Verde, promising a luxurious and unforgettable stay on this idyllic tropical haven.
If you dream of waking up to the sound of gentle waves caressing the shore, the Oásis Atlântico Salinas Sea is your haven. Located on the mesmerizing Sal Island, this five-star hotel boasts direct access to the pristine sandy beach and offers stunning sea views from its luxurious rooms and suites. With a range of amenities including swimming pools, spa facilities, and delectable dining options, the hotel promises an indulgent and rejuvenating experience for its guests.
For those seeking a blend of family-friendly activities and relaxation, the Meliá Dunas Beach Resort & Spa is a top choice. Set amidst beautifully landscaped gardens and overlooking the azure waters, this all-inclusive resort offers endless entertainment options for adults and children alike. From water parks and sports facilities to evening shows and a well-equipped spa, the Meliá Dunas creates a seamless vacation experience for the whole family.
Embodying the elegance and sophistication of the renowned Hilton brand, the Hilton Cabo Verde Sal Resort is a haven for luxury seekers. With a prime oceanfront location, this upscale hotel provides an array of world-class amenities, including multiple restaurants serving international and local cuisine, infinity pools with poolside bars, and a tranquil spa. The Hilton Cabo Verde offers an unforgettable retreat that effortlessly caters to discerning travelers.
Cape Verde Hotel Morabeza – Santa Maria, Sal Island
As one of the oldest hotels on Sal Island, the Morabeza Hotel has been delighting guests for decades. Boasting a prime location on the famous Santa Maria Beach, this family-owned hotel exudes authentic Cape Verdean charm and hospitality. The Morabeza offers a wide range of accommodations, from cozy rooms to spacious bungalows, all surrounded by lush gardens. With a private beach, watersports activities, and a choice of restaurants, the hotel delivers a unique blend of tradition and modern comforts.
Venturing to the island of São Vicente, the Foya Branca Resort Hotel captivates with its idyllic setting. Overlooking the picturesque Mindelo Bay, this beachfront resort combines contemporary design with local elements, creating a truly captivating atmosphere. The hotel's infinity pool seems to merge with the ocean, offering stunning panoramic views. Whether you're savoring local delicacies at the on-site restaurant or enjoying a soothing massage at the spa, Foya Branca promises an unforgettable escape.
Conclusion
Cape Verde's mesmerizing beauty and warm hospitality are perfectly complemented by its range of world-class hotels. From luxurious beachfront resorts to charming family-owned establishments, each accommodation promises a unique and unforgettable experience. Whether you're seeking relaxation, adventure, or a blend of both, the best hotels in Cape Verde are ready to welcome you and help you create cherished memories in this tropical paradise.
Embark on a journey to Cape Verde and indulge in the pleasures of its stunning landscapes, vibrant culture, and unparalleled hospitality. With these top-notch hotels as your home away from home, your dream getaway in this enchanting archipelago awaits.
If you are in need of hospitality or restaurant consultancy in Africa please get in touch for a free consultancy session
For more related articles please click here