L'oscar London new menu launch
13th March 2020
L'oscar London, kitchen management and new menu launch
L'oscar london new menu launch-
Is an exclusive 39-bedroom luxury hotel. A previously-abandoned architectural gem. The former Headquarters of the Baptist Church. Now has been fantastically-restored and re-imagined in all its Baroque glory. Once left derelict, this 110-year-old treasure. Has been subject to a no-expense-spared refurbishment by highly-esteemed French architect and designer Jacques Garcia. Creating his first London hotel.
Set near Covent Garden, L'oscar London is in an ideal location for experiencing the heart of the city.  Where guests can enjoy easy access to a range of luxury boutiques, restaurants and cultural hot spots. Including Theatreland, the British Museum and the Royal Opera House.
The Hotel embodies a theatrical style throughout its interior with original Doulton fireplaces, crystal butterfly wing taps, a seven-storey chandelier and its signature glasses – rare hollow stemmed Champagne coupes.
L'oscar  is a place to stay, and play – with a restaurant, bar and leisure spaces – it promises to be a destination of both visual and gastronomic temptation.
We were engaged by L'oscar towards the end of 2019 with the previous chef departing for new pastures with D&D. The assignment was to stabilise the kitchen team and recruit a new brigade, whilst maintaining the 5 star standards and implementing a new menu launch that would be more accessible.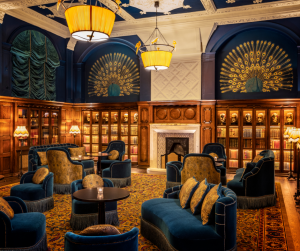 How we did it- New menu launch
The direction was quite clear, the owners really wanted to make the food more accessible. More crowd pleasing dishes, less fussy and complicated. L'oscar is a beautifully refined hotel so there needed to be a balance between refined quality and robust flavours.
The cafe was re imagined as simply "L'oscar ". The menu re-designed with stand out brasserie style dishes such as Lamb hotpot, chicken liver parfait, lobster salad & grilled whole lemon sole. A daily changing plat du jour of classic European and English dishes such as Grilled calves liver, Fish pie & Cod and chips. Desserts classics given a modern twist such as Poire belle helene, Custard tart & Rhubarb crumble.
Updates to the menu were swiftly approached and training and recipe cards were built for the kitchen and front of house team. We initiated a process of trialing dishes, that would be then cooked off and presented to the General Manager and F&B manager. Primarily to ensure that we were all on the same page. Once dishes were signed off we then went on to build the recipe cards. These documents really helped to galvanize the training and food knowledge of the team, particularly whilst recruiting the new brigade.
Recruitment for the brigade was assisted by caterer.com. We would interview , trial and assess all of the staff. We sifted through 100s of applications and cvs to help recruit a fantastic and reliable kitchen team. We also had outreach to several agencies that would help fill in the gaps.
The new menu launch took place around four weeks ago. Its early days certainly, however the hotel can see a positive turn in numbers dining, spend per head and certainly customer satisfaction. Using the online purchasing and recipe card system we can see that food margins have stayed in line whilst labour has improved.

In summary-
L'oscar has been a fantastic project for us, and something we are very proud to be associated with. We are certain that the new menu offering is  much more desirable. The customers and the team are really engaged with it. We can feel the momentum building and look forward to a positive Q1/Q2 for L'oscar restaurant and the events.
Click through with the link below-