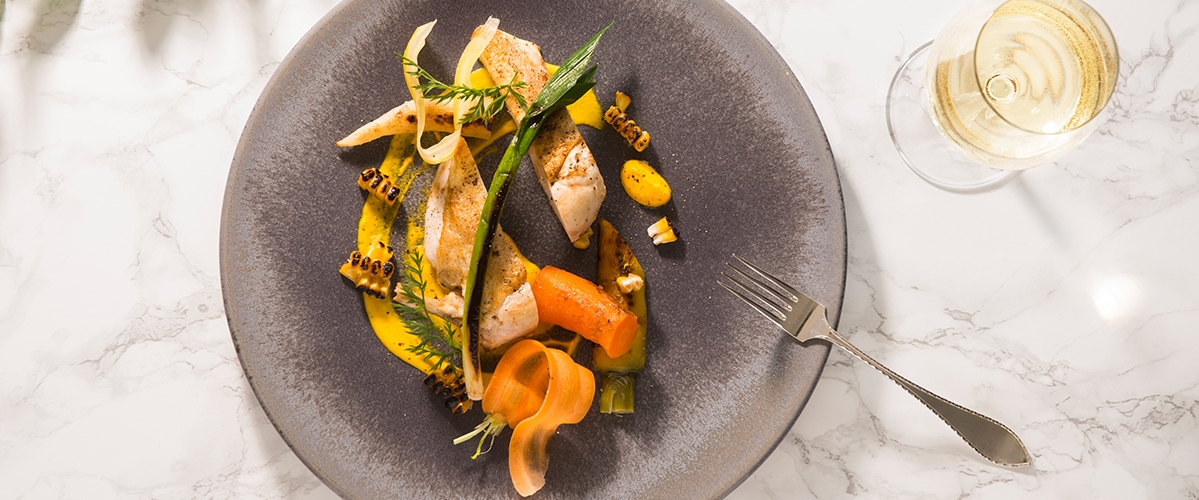 How to- Roast chicken, salt baked carrots & carrot puree
29th January 2021
How to- Roast chicken, salt baked carrots & carrot puree.
While we are all unable to go out and enjoy the restaurants we love going to, I thought I would share some recipes with you all. Here is how to recreate at home, Roast chicken, salt baked carrots and & carrot puree.
There is a video accompanying this post if you head over to my Instagram page which explains best how to plate the dish, however the method & individual recipes are here to follow-
Method-
Trim your chicken of any excess skin or fat, in the video I have used a whole bird that I broke down into a crown and both the legs, the same results can be achieved with Supremes, a Crown or a whole bird, just depends on how many you are cooking for.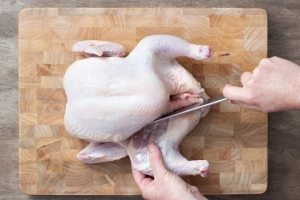 Brine the chicken for a minimum of 6 hours but up to 24hrs. This cleans the chicken and adds flavour and moisture to it too. Once brined, wash and dry the chicken and seal in a hot fry pan with olive oil . Add a little butter to the pan to get a nice colour and then place on a roasting tray and cook for around 25 minutes at 170c for a chicken crown. Pour the pan juices over the chicken and continue to baste the chicken with these. It adds flavour and moisture back to the meat..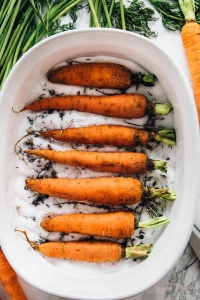 An important step that is often missed is to allow the meat to rest for 5 minutes or more at the end of the cooking process. Meat or fish straight from a hot oven is tense and tough and often will not eat particularly well before resting. Once the chicken is cooked, rest it well, somewhere warm and allow the juices to be drawn back into the meat.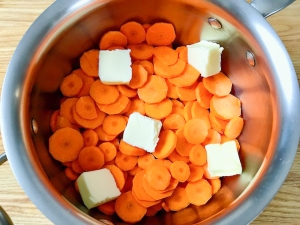 So once the chicken has rested, start by plating the carrot puree, the salt baked carrots and the chicken supreme. Scatter the toasted corn and top with a blanched baby leek. I have also used shaved raw carrots and carrot tops to add a bit of colour, contrast and freshness to this dish.
Bon Appetite 🙂
See our other Posts
Recipes-
10% Brine-
2000ml water
200g salt
150g caster sugar
5 g peppercorns
5 g rosemary
2 bay leaves
Bring all the ingredients to a simmer in a tall pan, you can add any ingredients you like as the brining process will help infuse flavours. However I would say that hard herbs and spices work best as they hold up well against the salt solution. Once cooled add the chicken and refrigerate for a minimum of 6 hours to see any benenfit
Salt Baked Carrots-
200g rock salt
5g fennel seeds
2 pc star anis
5g rosemary#
Washed/scrubbed whole carrots
Choose good quality, fresh carrots. Which seems obvious, but older carrots will just end up dry and rubbery. A bed of rock salt in the bottom of an oven proof dish with the remaining spices mixed through. Scrub the carrots as opposed to peeling them and keep them whole, the skin will encase the flavours. Bake in the oven for around 35/40 minutes at 170c. Carrots should be slightly browned on the outside and increased flavour and colour on the inside.
Carrot Puree-
500g carrots peeled and thinly sliced
1 banana shallot peeled and thinly sliced
1 clove garlic peeled and thinly sliced
30ml olive oil
2g thyme
1 bay leaf
50oml strong veg/chicken stock
2g fennel seeds
80g butter
salt and pepper
In a saucepan, sweat the shallots, carrots, garlic and fennel seeds in the olive oil until soft but without colour. Add the bay, thyme and veg stock and simmer with the lid on until completely soft. Partially drain the stock and remove the thyme and bay leaf. Add the butter to the hot vegetables and puree in a blender until completely smooth, re introduce the veg stock a little at a time until a smooth puree is achieved
Blowtorched Corn-
Cooked whole sweetcorn cobs either bbq'ed or torched on an open flame.