How to create a memorable brand interior
26th January 2022
FIVE TIPS ON HOW TO CREATE A MEMORABLE BRAND INTERIOR… 
 When eating out, a good review isn't solely down to the food. A restaurant's brand story and interiors play an important role on the whole experience. Knowing How to create a memorable brand interior that complements the menu offering and vise versa is not a simple task.
As restaurant and hospitality consultants we are regularly assisting brands to re align or reposition themselves. We are all attracted to brands that we can identify with. You may have seen our recent instagram live on why branding is important to hospitality businesses. 
In the social media-centric world that we live in, having a strong brand and interiors, means that a restaurant's design is more likely to become a must-visit and must-photograph – instagramble location!

Studies show that a restaurant's environment critically impacts customer satisfaction. The International Journal of Contemporary Hospitality Management states that the "quality of the physical environment, food, and service were significant determinants of restaurant image.
Also, the quality of the physical environment and food were significant predictors of customer perceived value."

With many F+B businesses looking at the year ahead, we have pulled together five tips on how to immerse your guests in your unique brand story and start to create a destination venue where guests will want to return! 
No.1 Acoustics
This is a factor that a great many restaurants don't pay enough attention to. Yes it is immensely important for a restaurant to be attractive but your eatery should also be attentive to the ear. In large spaces, this can be surprisingly problematic, with some restaurants creating spaces with a very tinny sound and others not allowing for sound to travel at all, causing a restaurant with only a third of its covers filled to sound as though it is full to the brim, and we don't mean that in a good way!

No.2 Furniture, Fixtures, and Fittings.
Some people make the mistake of thinking that the interior of a restaurant, and the excellence of this factor, only relates to high-end eateries, but it plays a part in every single restaurant you care to mention. No one wants to go and eat in a location that isn't designed well and now with small, local eateries even taking this on board, it is important to make sure this is key to your strategy too. 
You may be surprised just how much effort and planning goes into the furniture, fixtures, and fittings that make up a restaurant interior. The restaurant furniture is essential when it comes to reflecting the brands story, values and ethos, as well as the dwell time of guests. For example, cosy, lounge seating will encourage longer dwell time and a more relaxed atmosphere, compared to the seating of a coffee shop chain. 
If the restaurant is expensive and pairedback, then everything about the place must have that mindset. Similarly, if the restaurant is more down to earth, the menu should be deliberately more 'homely, and the seating more relaxed and laid back.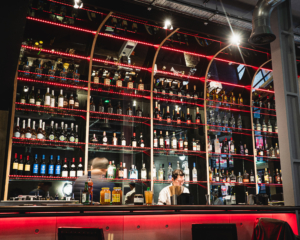 No.3 Lighting 

Lighting is key to indicating the mood of your restaurant. The moment your guests walk into the space they will get a sense of the type of restaurant it is. Maybe you have a dimly lit space, with intimate pockets, for romantic dinners and cocktails or a more natural lighting for a more  organic feel. The mode of lighting is also important; you could select highly decorative and bespoke forms of lighting, reclaimed or even a concealed LED appearance.Whatever you choose, it should be in line with your overall look and feel. 
For similar articles please click here-
No.4 Detailing
It is always about the details! You need to remember your restaurant is a brand, and it is the little touches you make that create memorable experiences for your guests. This can be through the menu design, style of cutlery, staff uniforms, the music played, how your staff members interact with guests, or the art work you pick. Effectively these act as a kind of reinforcement of your restaurant's spirit and character. A lot of bars and restaurants are trying to jump on the idea of 'instagrammable' moments, which is a great way to get your name out there and photos of your space shared! However, this needs to be carefully considered in order to align with your brand. 
No.5 Don't Forget the Exterior.
The exterior of your restaurant has proven to become more and more important over the past two years, as guests interact with it more. Restaurants and bars with much larger outdoor spaces have found dealing with COVID guidelines far easier than those with limited or no outdoor seating. Eating outside is going to become more popular, and depending on the location
of your restaurant (in terms of weather and conditions), you'll have to plan accordingly.
The outdoor area offers you more room to breathe, both literally and figuratively, especially if further waves of the virus affect the business negatively. As interior designers we can help you to utilise this space and your budget.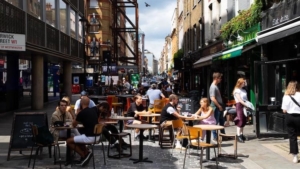 We are restaurant consultancy and hospitality experts. We specialise in menu development, operational support, financial planning, concept design and creation. To learn more about Lumiere consultancy  please Click here