The Gentleman Baristas
5th May 2020
The Gentleman Baristas
I first met Henry Ayers the founder of The Gentleman Baristas a number of years ago. He showed us around his Roastery and did an amazing job, not only of helping us with coffee, but entertaining my client.
The Gentleman Baristas are a growing group of Coffee houses and Roastery. Their original site opened in Borough and now have sites in Fitzrovia, Southwark, London Bridge, East India, Hammersmith, O2, Flat Iron Square, Vinegar Yard & Holborn. Whilst predominantly coffee focused, their larger sites  offer brunch plates. There is also a comprehensive range of beans that can be bought in-store or  purchased online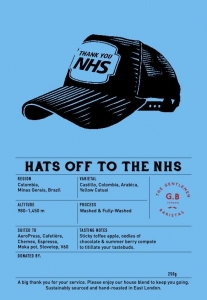 Their Story
Since 1698, when the London coffee house cemented itself as the quintessential melting pot of political, philosophical and creative debate, independent businesses have competed to serve the best cup of 'syrup of soot and essence of old shoes'.
When we established the Gentlemen Baristas in 2014, we were determined to reinvent these age-old traditions of serving a superb cup of coffee in creative and inspiring surroundings and providing a meeting point and thinking space for London's modern day visionaries.
Of course, 'soot and old shoes' will no longer satisfy the discerning palate of the 21st century coffee connoisseur; our first and primary aim has always been to showcase at its best the great wealth and variety of coffee available today.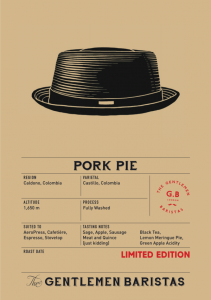 We have a tagline. Manners are key – they're important, they're neglected and people do care about them. They go to the core of our identity; we are upright and correct, and strive to evoke the best of a period gone by.
As coffee roasters, the green beans we roast are carefully and responsibly sourced. We source from all over the world; ensuring all our green beans are high scoring and consistently excellent.
Our process for selecting and roasting beans ensure that, whichever final form the coffee may take, when it reaches the cup, it is the best it possibly can be.
Making coffee can be a perplexing process; It is sensitive to minute changes in temperature and humidity. As a coffee supplier, it is our job to ensure that whoever is using our coffee is as well prepared as possible to get the best out of it.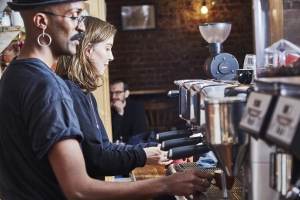 We work closely with clients to provide the right set up for their desired coffee offering from the sourcing of equipment and installation to calibrating the grinders, training staff and regular audits to ensure consistency.
Whether you are keen to get the most out of your coffee at home, or are looking to build upon your skills as a professional barista, at The Gentlemen Baristas we offer a range of courses from our roastery in Shadwell.
From the cherry through to the cup, you will learn the fundamentals of what goes into making coffee.