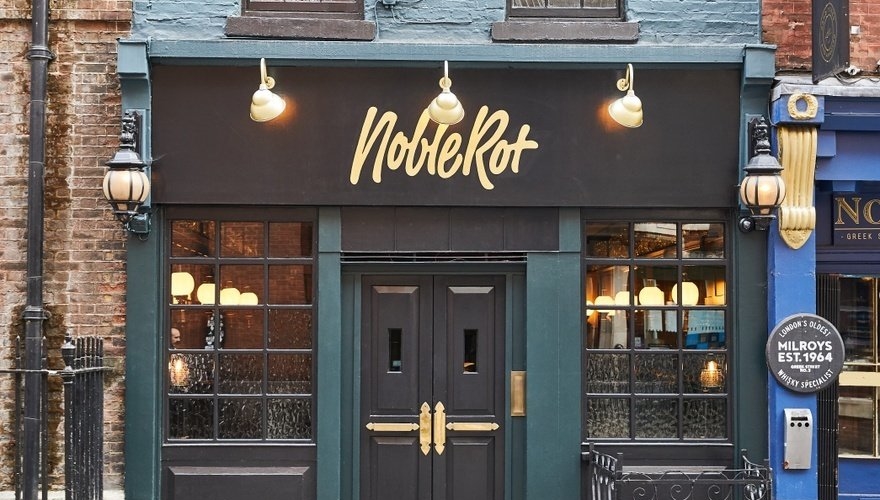 Noble Rot review
15th January 2022
A review by Sofiia Sesiunina-
Restaurants are the centre of my personal existence. In the evenings, it's the spot I go to relax after spending all day in front of the computer. We discovered Noble Rot on a side street in Bloomsbury thanks to the help of my companion. As someone who has never been along Lambs Conduit street before, I was startled by its charm. Cobblestone road, swinging limbs of large oak trees, quaint stores, and an unhurried atmosphere characterise this pedestrian area. As we walked up to the restaurant's dark awning, it was pouring rain, which added to the ambience of the evening.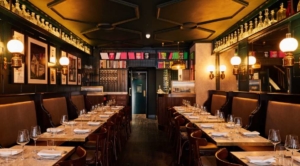 There was a member of the front of the house at the entrance of the restaurant, nestled slightly in from the door. After checking our reservation, she gave us a warm welcome. At the rear of the restaurant, we were shown to a table illuminated by a skylight that pointed toward the clouds above. It was a huge hit with me. There is nothing like a rainy day to bring out the best in people.
Our waiter was cheerful and enthusiastic. He placed a little bottle of hand sanitiser on our table and then handed me the wine list. We began the evening with a glass of champagne (Michel Gonet, Blanc de Blancs '3 Terroirs'; Champagne, France 2010) and some bread and butter before settling in to browse the menu. I've never tasted champagne quite like this before; it was a truly unique experience. Fine bubbles and golden hay colour gave it a buttery, nutty and musky flavour. To put it mildly, it was breathtaking.
"Noble rot" is a wine phrase. It refers to a particular fungus that thrives on extremely ripe grapes. As the fungus develops, the wine shrinks and concentrates all the sugars, resulting in honey-like textures and flavours when pressed. Noble rot is however much more than that. Self-described as 'Franglaise' style of preparing food, head chef Paul Weaver and his crew make small meals that match well with the extensive wine list housed in the restaurant's large cellar. With its location in an ancient townhouse, it's unsurprising that it seems as though you've stepped into the home of a dear friend.
Back to the menu, we decided on Noble Rot's Smoked Mackerel Pâté & Pickled beetroot, grilled octopus, Chorizo & Aioli, Dorset Snails, confit garlic & parsley as our starters. Followed by the roast Texal lamb Saddle, Puy Lentils & purple sprouting broccoli as well as smoked Haddock, Leeks & Mustard Veloute. 
Our starters arrived, and they were delicious. The smoked mackerel Pâté and the champagne were perfectly matched. A bottle of wine seemed like the next logical step. A red from the Loire region in France was just what we were looking for to accompany our Texal lamb Saddle and smoked Haddock. Cherry aromas, huge fruit flavours, musk, leather, and funky undertones. The waiter delivered the bottle to our table.
Mains—yes. Our lamb and haddock have come! Lamb was glowing pink and dripping with succulent rendered fat. The stuffing was outstanding and enhanced the lamb perfectly. Haddock sat atop a bed of Leeks and Veloute Mustard. Every item was prepared to perfection. We truly forgot about the world's problems for a few hours as the wine flowed and the dishes were so exquisite. After a few hours of enjoyment, we cleared the bill and exited the restaurant, with each staff member saying bye to us on our way out.
Allowing yourself the luxury of having someone else cook for you in times of pandemic is liberating. My favourite thing about Noble Rot was that it felt like they genuinely cared about the entire dining experience.  In this case, it was not just about good food and fine vino: but about so much more than that. It all comes down to being warm and inviting to your guests, whether they are new or returning. Having a genuine enthusiasm to greet them, recommending things, and being informed about your products and produce are all vital aspects of a successful restaurant.
To visit Noble Rot click here
For more related articles Click here  or to find out more about Lumiere consultancy visit us